References and Clients
The daily work and the quality of it back me. That is why I have so many references both in the academic and professional area.
If the client requests it, I can show or give them the contact of my references so that they can know the opinion of those who entrust their translations to me:
Mairie de Cabourg, Roullier, Interseed, Itchigo, Agence Editoriale Interactive Dixitt, Asesoria Yames, DIP, Centro Alemán Santander, Communica, DIP Desarrollos industriales Porriño, Go English, Abogados Iribarri, Linguamania, Oc languages, OTR, Proyser Calderería, Synergy Didactic, Quills language service, Jemetka, Versitalie, Wespeak, Windram Miller, Interlingua, JTI, Ayuntamiento de Ourense, Grupo FISU, Instituto Minero Español…
Photo of the press conference of Vigo's city council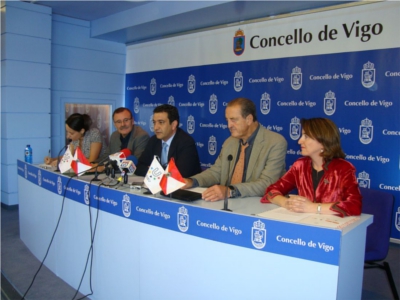 De la izquierda a derecha: Elisabet Garcia Oya, Intérprete, Francisco Xabier Alonso Pérez, Conselleiro de Deportes, Santiago Domínguez, Teniente de Alcalde, María del Carmen Cabeza, Vicerrectora de la
Universidad de Vigo.